One in four NHS hospital trusts is failing to give antibiotics to half their patients with sepsis within the recommended time, new figures suggest.
Figures from 104 trusts seen by BBC Panorama show 78% of eligible patients are being screened and 63% are getting antibiotics within one hour.
Health Secretary Jeremy Hunt said the NHS had "more to do" to stop "preventable" sepsis deaths occurring.
Sepsis is a rare but serious complication of an infection.
Without prompt treatment, it can lead to multiple organ failure and death.
In 2015, concerned at the growing number of sepsis cases going undetected, the NHS told hospital trusts to examine how successful they were at identifying patients with the condition.
The figures seen by Panorama cover the 12 months to March 2017.
'I've never felt this ill before'
Alistair Jackson, a reporter for Panorama, decided to investigate sepsis after his mother, Margaret, died two years ago.
Margaret had been treated by her GP for a urinary tract infection.
She was admitted to Queen's Hospital in Burton upon Trent, Staffordshire, shortly afterwards with chest pains and a high temperature.
Alistair's father, John, remembers how quickly his wife deteriorated.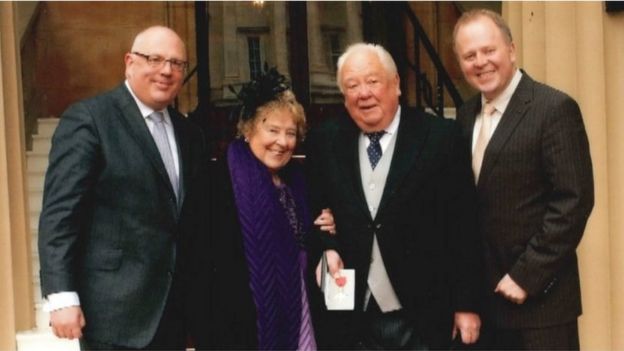 "She woke up in the morning and said 'I've never felt as ill as this before'.
"She quite clearly said to me at one point 'oh God is this the end?' and I said 'no don't be silly, of course not' and I think those were virtually the last words she ever uttered."
Sepsis was not recorded as having contributed to Margaret's death.
Dr Ron Daniels is one of the world's leading sepsis experts and chief executive of the Sepsis Trust. He reviewed Margaret's treatment for Panorama.
"There's no evidence from the notes that sepsis itself was considered even in the face of abnormal observations and even when she started to deteriorate very quickly," he said.
'Too late'
Margaret was eventually prescribed antibiotics but there was a three-hour delay in administering them.
Britain's Sepsis Crisis
BBC Panorama
44,000
deaths every year in the UK
14,000
preventable deaths every year in the UK
37% of patients that need antibiotics for sepsis are not getting them within an hour
14 hospital trusts are only screening one in every two people with signs of sepsis
Source: NHS data
Science Photo Library
"She received them eventually but I think it's quite clear that she received them too late. There was opportunity to administer antibiotics several hours before they were ultimately administered," said Dr Daniels.
"I think it's unlikely that earlier antibiotics would have done any harm and it's entirely possible that they might have improved her chances of survival."
Burton hospital says it has made vast improvements in the past six months and is now screening 98% of in-patients.
Speaking to Panorama about the new figures, Health Secretary Jeremy Hunt said: "There are preventable deaths happening but we're bringing them down and I think that the picture is much improved from two years ago. but there's a long way to go.
"Safety is at the top of the NHS's in-tray… and sepsis is, if you like, a litmus test as to whether we're getting there.
"And I would say that what it shows is that we are making progress but there is a lot more work to do."

Lowest scoring NHS England trusts on screening for sepsis
Liverpool Heart and Chest Foundation NHS Trust – 8%*
East Sussex Healthcare NHS Trust – 27%
Christie NHS Foundation Trust – 28%
Peterborough & Stamford Hospitals NHS Foundation Trust – 30%
Mid Cheshire Hospitals Foundation Trust – 31%
University Hospitals Coventry & Warwickshire – 35%
Kettering General Hospital – 36%
Stockport NHS Foundation Trust – 45%
Worcestershire Acute Hospitals NHS Trust – 46.6%
Dorset County Hospital NHS Foundation Trust – 47%
University Hospitals Bristol NHS Foundation Trust – 48%
Gateshead Health NHS Foundation Trust – 48%
City Hospitals Sunderland NHS Foundation Trust – 49%
*Figures are from trusts that supplied data and show numbers of those who required screening against those who received screening
Lowest scoring NHS England trusts on treating sepsis with antibiotics
Bradford Teaching Hospital – 25%*
University Hospitals Coventry & Warwickshire – 26%
Shrewsbury & Telford Hospital – 28%
Dartford & Gravesham NHS Trust – 30%
Countess of Chester Hospital NHS Foundation Trust – 33%
Dorset County Hospital NHS Foundation Trust – 33%
Wye Valley NHS Trust – 34%
Rotherham NHS Foundation Trust – 36%
Brighton & Sussex University Hospitals NHS Trust – 38%
Milton Keynes Hospital – 39%
Christie NHS Foundation Trust – 39%
Aintree University Hospital Foundation Trust – 39%
City Hospitals Sunderland – 39%
Airedale NHS Foundation Trust – 42%
Royal Cornwall Hospitals NHS Trust – 43%
Stockport NHS Foundation Trust – 43%
Mid Cheshire Hospitals NHS Foundation Trust – 46%
East & North Herefordshire NHS Trust – 46%
Ipswich Hospital NHS Trust – 46%
County Durham & Darlington NHS Foundation Trust – 48%
Portsmouth Hospitals NHS Trust – 49%
The Royal Bournemouth and Christchurch Hospitals NHS Trust – 49%
North Cumbria University Hospitals NHS Trust – 49%
Gloucestershire Hospitals NHS Trust – 49%
*Figures are from trusts that supplied data and show number of those who required antibiotics against those who received antibiotics within one hour
http://www.bbc.co.uk/news/health-41204389