Problem being overlooked, says report which finds number of over-60s in jails in England and Wales has tripled in 15 years
'Buried alive' – the old men stuck in Britain's prisons
risons are now the largest providers of residential care for frail and elderly men in England and Wales and are increasingly turning into hospices, providing end-of-life care for older prisoners and even managing their deaths.
In the first report on older prisoners by the prisons and probation ombudsman, published on Tuesday, Nigel Newcomen reveals that the number of prisoners over 60 has tripled in 15 years. He also says there will be 14,000 prisoners aged over 50 by 2020, amounting to 17% of the total prison population, up from 13% in 2014.
The situation is so serious that Peter Clarke, the chief inspector of prisons in England and Wales, has told the Guardian that he believes the time has come to introduce purpose-built "older prisoner" jails: essentially, residential care homes surrounded by a wall.
Older prisoners frequently have significant health needs that prisons struggle to cope with. As well as increasing numbers of prisoners requiring palliative care, there are several hundred older prisoners suffering dementia. Numbers are expected to rise sharply. While there are pockets of good practice, Newcomen criticises the prison service for widespread "inhumane" treatment of these older prisoners.
But his report, Thematic Review: Older Prisoners, also holds the government to account for abandoning prisons to cope alone with the seismic change in their population. Prison officers are inadequately trained in the care of elderly and often infirm inmates, and the system is already struggling with limited resources and buildings built for fit young men.
"I remain astonished that there is still no properly resourced older-prisoner strategy to drive consistent provision across prisons," Newcomen said. "This is something I have called for repeatedly and without which I fear my office will simply continue to expose unacceptable examples of poor care of the elderly and dying in hospital. The territory of older prisoners is one that politicians, ministers, policy officials are not taking enough notice of."
The increase in the number of older prisoners has been driven largely by increased sentence length and more late-in-life prosecutions for historic sex offences.
A freedom of information request by the Guardian has revealed an 87% rise in the number of prisoners aged 80 to 89 (from 102 to 191), and a 140% rise in prisoners aged 90 to 99 (from five to 12) in the past two years. There is currently one prisoner aged 101 in the prison estate.
Prisoners aged 60 to 69 are the fastest-growing group in the prison population, with a 146% increase between 2002 and 2014 to 2,541. Those aged 50 to 59 are the second-fastest growing group, with an increase of 122% in the same period to 6,957. The overall prison population rose by just 15% over the same 12 years. This is no demographic blip, Newcomen warned: the increase is expected to continue exponentially.
"There has been little strategic grip on this sharp demographic change," he said. "Prisons and their healthcare partners have been left to respond in a piecemeal fashion."
In his report, Newcomen lists the multitude of extra ways that older prisoners suffer during their incarceration, ranging from being unable to wash or leave their cells, to receiving substandard medical treatment inside the prison and being shackled in hospitals when dying.
Nick Hardwick, chair of the Parole Board for England and Wales, tried but failed to raise interest among politicians in the issue of older prisoners during his time as chief inspector of prisons from 2010 to 2016.
"Prisons are the largest providers of residential care for frail elderly men in the country," he said. "And that provision increases with every month that passes, as does the pressure those numbers place on every part of the prison estate."
Clarke said he doesn't believe older prisoners should be in the mainstream prison estate. "A not-inconsiderable consequence of introducing purpose-built prisons for older prisoners would be the freeing up of a lot of resource in the more secure establishments," he added.
The report has been welcomed by the director of the Prison Reform Trust, Peter Dawson. "There is a growing number of men and women living out their old age in conditions that demean both them and us. A just system tempers vengeance with mercy, and we need to ask ourselves if we are getting that balance right."
'My biggest fear was getting dementia in prison'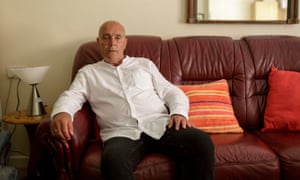 Tony Ignacio has been sentenced 17 times since the first time he went to court, aged just 13. Now 65, he was released from prison last year after serving 25 years of a life sentence for murder.
"Being an older prisoner is so much worse than being a younger prisoner. It's like you're being given loads of extra punishments, just because you're old.
"The younger prisoners think all older prisoners are sex offenders. That's not true but they beat you up because of it. They set fire to your cell and burn all your possessions. They hiss 'paedo' at you when you pass them in the corridors. It's terrifying. It's humiliating.
"The worse thing is the restraints when you're in hospital. I've had five heart attacks in prison since 1999, and one triple bypass. One time, I was on the surgeon's table having stents put into my groin. The surgeon asked the prison officer to remove the chain attaching his wrist to mine but he refused. My whole groin was open. The surgeon had opened a major artery. He told the police officer that if I tried to escape, I'd bleed to death before I reached the door but it made no difference: the police officer wouldn't unchain me. He made the surgeon walk around him to get the stents in.
"My biggest fear was getting dementia in prison. They don't know what to do about prisoners with dementia. They're not trained to recognise it, so you get punished because they think you're playing up. I knew an older prisoner who got dementia. He would come out of his cell naked and chuck his food around. He was punished – he spent months in seclusion, on and off, before they finally realised.
"I regularly had to go without washing myself for more than a week at a time because I couldn't stand up by myself in the shower. There weren't often enough staff to carry me to the healthcare centre, so I just sat in my cell and stank. It was humiliating.
"When I left prison on licence, I had to stay in a hostel for six months. That was horrible. I was by far the oldest there and the younger men would bully me and try to get my pension off me. I would stay in my room for a week at a time without going out. It was like being in prison again but worse."
https://www.theguardian.com/society/2017/jun/20/prisons-taking-role-of-care-homes-and-hospices-as-older-population-soars